Working With Pastor Alvaro Noguera in Costa Rica
presented by Charles H. Clever
Give it time to load, folks, as it contains several large photos.
HOME
The La Union church is about to double its membership.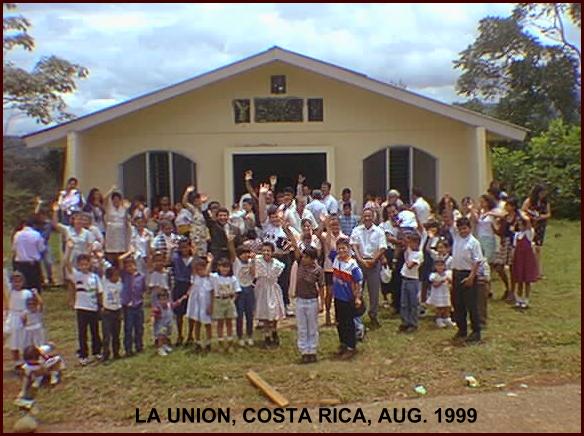 Through a video presentation by Orlando Bullon projected from a nView projector, and followed by 45 minutes of intense Bible study, many people in this farming community have made an important commitment for Jesus. The video projector seems to be a unique tool because these people have never seen pictures as large as a wall, and the material is well done, which glorifies God, and holds their interest.
---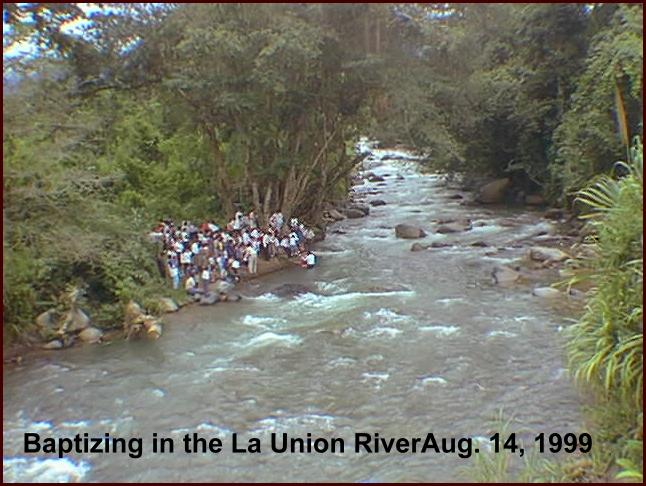 How fitting that the La Union River, which means "uniting" is the scene for this joyous uniting with Jesus. One can almost visualize John the Baptist baptizing on this special Sabbath which represents 21 people committing their lives to Jesus. About one half of these baptisms are the work of Victor, one of Alvaro's dedicated elders.
---
---

How is this accomplished? First you must be where the Holy Spirit is working--Latin America seems to fit the bill. After much prayer, you then must advertise your meetings.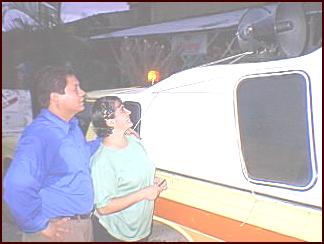 Pastor Alvaro Noguera and his wife, Vanessa, inspect my loud speakers on top of a Chevy LUV. I drove it from Arizona in 1995. An oscillating yellow light attracts attention to the vehicle as music is played between announcements on the p.a. system. This is done as we drive throughout the small community for the first three nights of the meetings. In addition, the Bible truths presented appeal to our guests, and they invite friends. On the first night, we had eight guests, the next night, 25; and then the church was full with 60 people.

---
While working in the Quepos area, we took a break and spent one day visiting Miguel Antonio National Park. It has three sandy beaches separated by beautiful peninsulas. You may view many types of natural wildlife, like several species of monkeys. They subsist on the fruits and berries that grow there. Guests are prohibited from feeding the animals so they will not loose their natural feeding habits and abandon the jungle. The picture shows a large stone ball that the Indians quarried. No one knows exactly why they did this. In the background, colorful beach towels are hung from lines for visitors to purchase. I'm on the left, then the Noguera's: Ariana, Ariel, Vanessa, and Alvaro.

For 100 Colones (29 cents), a boat ride will ferry you.
Or you can wade or hike through the jungle to get to
the beach.
Can you see the iguana sunning on the log? His
coloring has adapted to that of the limbs. They are
mostly vegetarians, and eat foliage and fruit.
I followed a jungle trail and arrived at another beach
just in time to see Ariel and Alvaro taking the short cut.
Adriana and Ariel enjoyed watching the hermit crabs
scamper around the beach, I tried to stay in the
shade--my happiness was watching the children play.
---

Working in a Quepos Suburb Called Lorona

Lorona is a small community with company furnished houses. The peons (workers) there must work six days a week. Their pay is so low that they either walk or ride bicycles. These large oxen are used to pull a cart loaded with clusters of bright orange fruits inter spaced with protective spines. These clusters come from the palm trees (Some young trees are visible in the background). After using the oxen (buey) to load the wagons, tractors will haul a column of six or seven of these wagons full of fruit to a nearby mill for processing. The fruits are fibrous, tasty, and very oily--they find their value in the marketplace where the palm oil is extracted for applications such as butter, cosmetics, and floor waxes.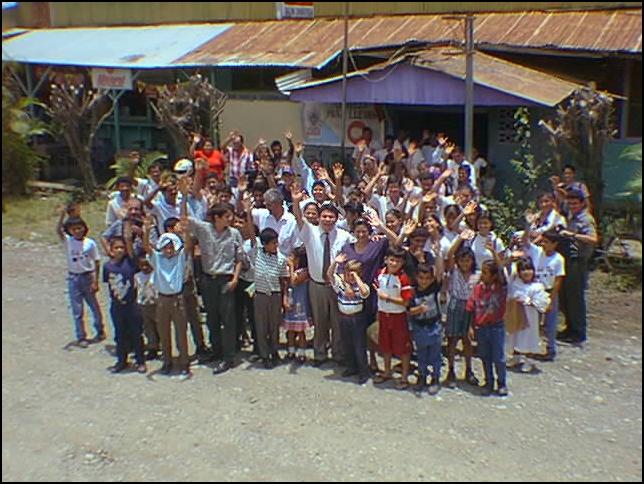 This is some visitors from San Isidro and Tiera Morenos as well as Bible students outside the Lorona Community
Center where the meetings were held. August 28, 1999 will be a memorable Sabbath for many of these people.

After announcing our meetings with the LUV's p.a. system, we had 25 guests in attendance. The next night the number doubled, then it increased to 90 people, about 20 per-cent were children.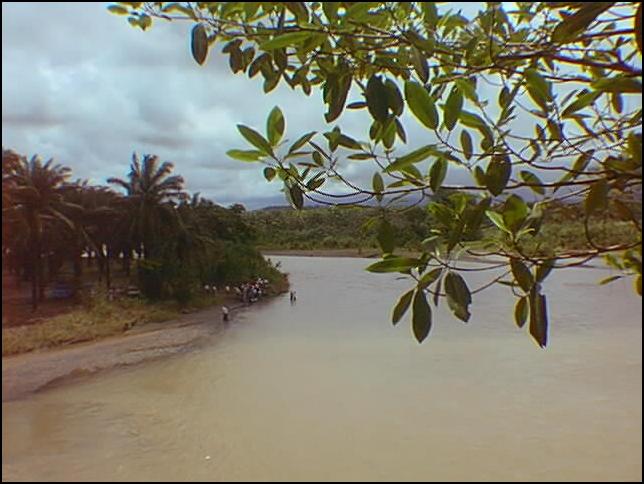 Cattle trucks were utilized to transport the company of believers to the baptism in the Savaghe River

Most of these people only have an elementary school education, but displayed intense interest in the video presentations. They also filled in the worksheets and read the Bible as well as you would expect the highest educated person to.

| | |
| --- | --- |
| | |
The meetings were held in the Community Center, which is also used for dances. It has a partition that lifts to allow drinks to be served from an adjacent bar--it was closed for our meetings. Next to that is their only country store where a few vegetables and canned goods are available. The store has the only telephone in town. They allowed me to hook my notebook computer to their phone, and for a fee of 20 Colones (seven cents), I was able to send and check my e-mail every day.
This was the second series of meetings for August, and represents a monthly total of 31 decisions for Christ as His work progresses in Central America.
MORE TO FOLLOW, FOLKS--STAY TUNED AS GOD'S WORK CONTINUES
Home
LINKS