"Teach All Nations..."
by charles clever
"Baptizing them in the name of the Father, and of the Son, and of the Holy Ghost" (Matthew 28:19). Although Christ's resounding words were accompanied with promises of help from Heaven, Jesus never said it would be easy. With the large number of baptisms through coordinated efforts in underdeveloped nations, Westerners may assume God has forsaken them and the Gospel commission is for others, yet their concerted efforts would also reap significant results.
With five years of evangelism using multimedia programs produced by A.S.I. or Global Evangelism, Letitia (Tish) and Charles Clever have met failures and success in the mission field. For example, last year the New Beginnings seminar held in Quepos, about two miles from a church Maranatha built, was canceled for lack of interest.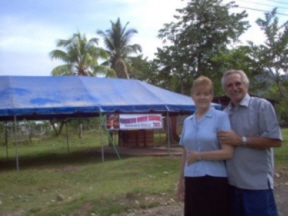 Quepos is located near the Pacific Coast in a Costa Rican tourist community with a history of prostitution, drugs, and late-night dancing. With poor attendance, the seminar was moved to a suburb near workers who harvest palm fruit used in manufacturing palm oil--twenty one people were baptized; many more signed for studies.
That Maranatha church is now full, primarily because benevolent supporters in the U.S. are sacrificing to pay Ismael Alfaro, a full time Bible worker, to prepare interests for baptism. This year the Clevers erected their 20 ft. by 60 ft. tent closer to the church and Ismael baptized seven from the two-week seminar with about fifty people signing for studies; then they moved to the Caribbean side of Costa Rica.
There, church members in the Cervantes church, also built by Maranatha, had "worked the field." That term describes members meeting for prayer, then door to door Bible studies. Ten miles away in Turrialba another church was gathering at five every morning to pray for their seminar. Pastor Alexander Rivas, pastoring five churches, motivates his members to actively work in what Ellen White calls "house to house labor." Although the long workdays prevented members from supporting the evangelistic meetings through attendance, on weekends church laity visit their students for further study.
One student, Carlos Edwardo Brenes, an 82 year old retired dentist, suffered from intense pain in his feet from many years of standing. He knows his remaining years are few and wanted his young children entrusted to God's hands. Each night Carlos limped as his children slowly walked him across town to the seminar. When he and his daughters were baptized, Carlos emerged from the cold water exclaiming, "The pain in my feet is gone!" One could assume the "miracle" was the short-term effect of instant hydrotherapy with the pain returning before he arrived home, but after several weeks, Carlos still insists that God worked a miracle for him. He remains pain-free and faithfully attends Church. God will undoubtedly bless Carlos further and give him extra years with his family.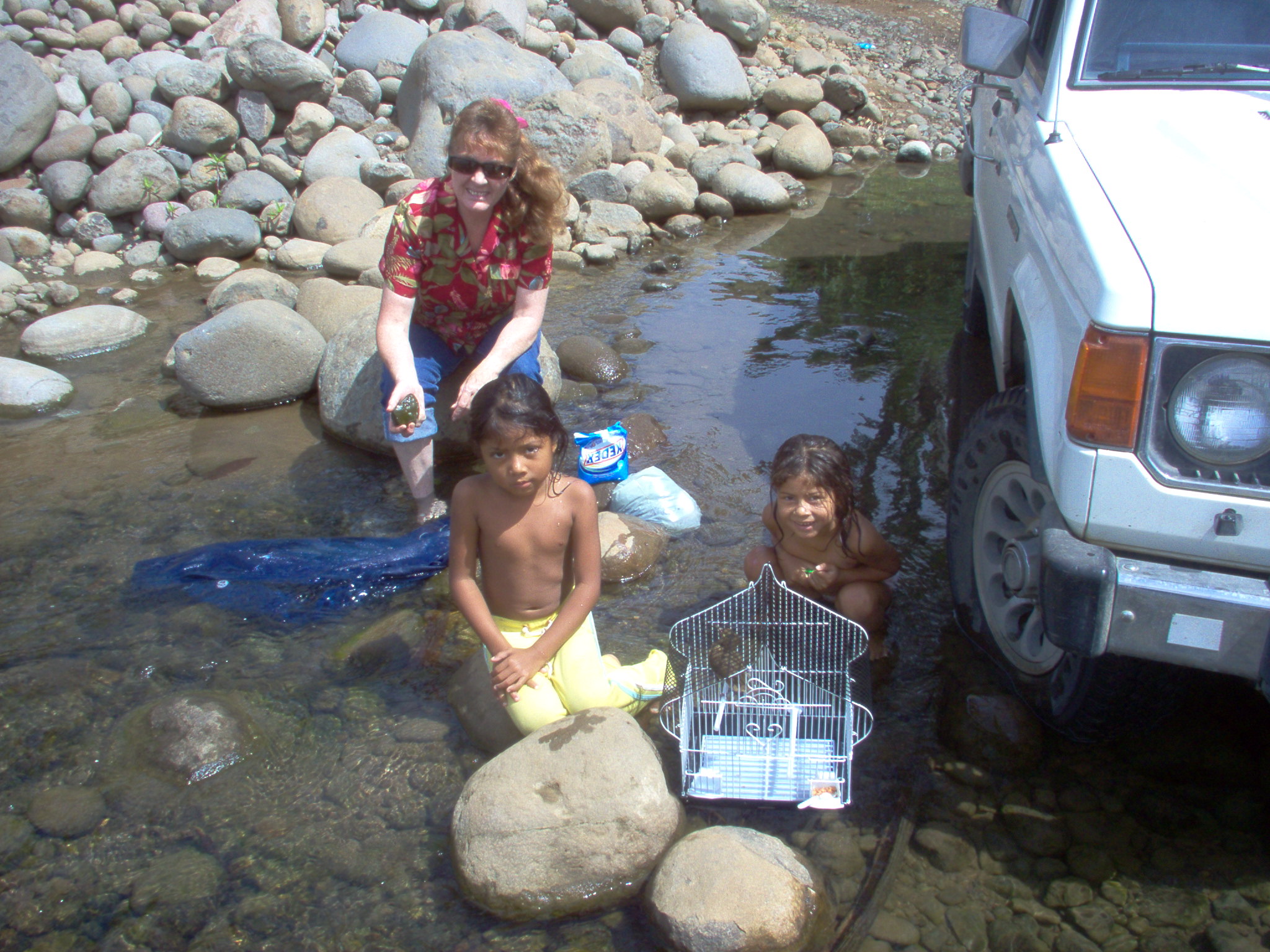 Sunday morning the dusty tent was disassembled and loaded for a four-hour drive to the Talamanca Indian Reserve. While driving to Talamanca, Charles and Tish recalled stories of shrunken heads, cannibalism, spears tipped with toxic frog excretions, and wondered what cultural changes modernization had made. Approaching the village of Shiroles, they passed another Maranatha church and noticed the community bordered with banana trees whose exported fruit provides work and the primary income for each family. Properly clothed Indians walked the streets or rode by on horses. Tall bamboo poles hoisted television antennas high above old houses, and here and there pigs grazed like cows amid foraging chickens. Downtown consisted of three small markets and several youth played video and pinball games at a restaurant.
Oscar Martinez guided the Clevers to a grassy area to erect the tent, then hand bills were distributed and the seminar announced from speakers above the Clever's vehicle. Pastor Enrique Senior, the Field Secretary for the Caribbean Mission, planned well for this seminar. Oscar was hired to "work the field" for six months in advance, then Saul Sanchez, another Bible worker, as well as Pastor Kindel Ferguson, joined the team to prepare interests for baptism.
As the nightly seminar progressed, the Clevers were impressed with the congeniality of the Indians and charmed by their bright smiles and friendly hand shakes. Somehow the blessings of leading people to make commitments for eternity overshadowed the insect bites, sweltering heat, antibiotic therapy for gastric bacterial infections, and primitive living conditions. Before baptism, the union of six couples were legalized by marriage under Costa Rica law, and church membership increased by about fifty natives. Would the Clevers return? Yes! Plans are now being laid for another seminar in Talamanca.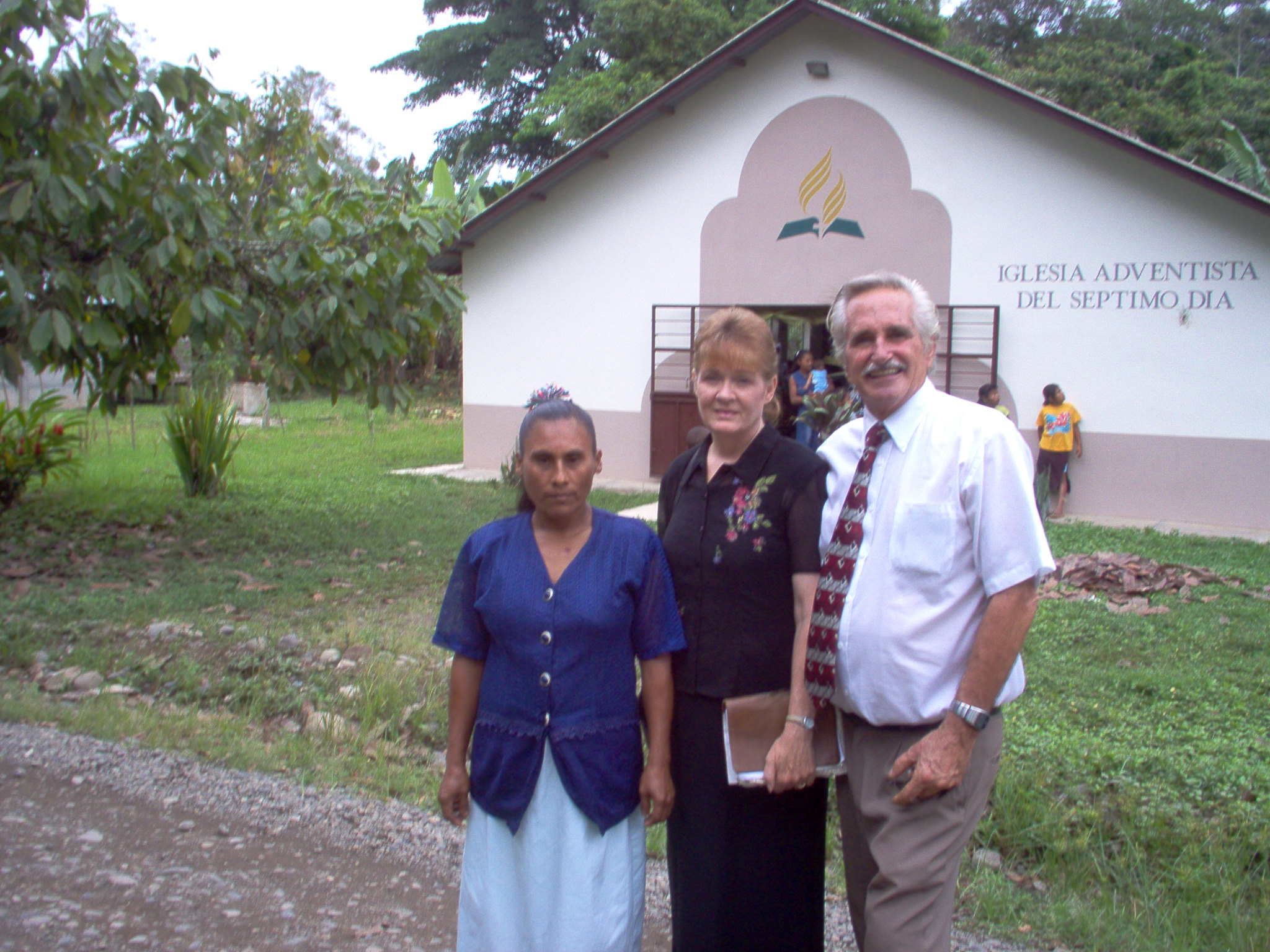 When one follows Christ's commission to "teach all nations", they will certainly be blessed, whether it be similar to the Clever's independent evangelistic work with church pastors, a trip to a foreign country with Global Evangelism, or working for souls in their own community. But it requires an individual sacrifice because the work will never be finished in the comfort of home. Ellen White counsels: "House-to-house labor, searching for souls, hunting for the lost sheep, is the most essential work that can be done" (Evangelism 431).
~ ~ ~ ~ ~ ~ ~ ~ ~ ~ ~
Photo 1: Charles and Tish Clever with their 1,200 sq. ft. self-standing tent.
Photo 2: Two Indian children with Tish (and a pet bird, yiguirro) do laundry--the primitive way.
Photo 3: Justadia Penararda Estwart, the first of fifty baptisms stand with Charles and Tish Clever near the Shiroles, Talamanca, Costa Rica, church, that was built by Maranatha.
Charles Clever is a retired railroad conductor and Registered Nurse. He has done missionary work in Mexico and Costa Rica. His wife joined him in 2002 after leaving her position with Human Resources at a Needles, California, hospital. They spend nine months of the year in Costa Rica, and have averaged more than one baptism per day of seminar. Their Pacific Union Conference home church is in Needles, Southearstern California Conference.
Copyright June 1, 2006 by Charles H. Clever, all rights reserved. This article, posted at www.revelado.org/talamanca.htm, may be forwarded, posted, or printed for non-commercial use displaying the following addresses: Home: www.revelado.org, contact: chasclever@juno.com. Authorization for the Indian lady's picture in Shiroles, Talamanca, Costa Rica is www.revelado.org/authorization.jpg.